February 11, 2013
Petrol-price data
Stuff reports on rising petrol prices:
All three retailers said refined fuel costs had been steadily rising since the beginning of the year and those costs were now being passed onto customers.
Wouldn't it be nice if you could get data on this, rather than just believing the petrol companies? Well, you can
The Ministry of Economic Development carries out weekly monitoring of "importer margins" for regular petrol and automotive diesel.  The weekly oil prices monitoring report is reissued every Tuesday with the previous week's data.

The purpose of this monitoring is to promote transparency in retail petrol and diesel pricing and is a key recommendation from the New Zealand Petrol Review
And if you look at the current graphs, the 'importer margin' has been declining since the start of the year, implying increasing pressure on retailers.  On the other hand, the importer margin is about the same as it was this time last year, and as the median from the year before that, so the 'increasing' pressure on retailers is partly just business returning to normal.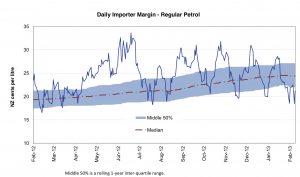 They also have the underlying data to download.

Thomas Lumley (@tslumley) is Professor of Biostatistics at the University of Auckland. His research interests include semiparametric models, survey sampling, statistical computing, foundations of statistics, and whatever methodological problems his medical collaborators come up with. See all posts by Thomas Lumley »