April 10, 2013
Another NZ blog
JustSpeak is
a non-partisan network of young people speaking to, and speaking up for a new generation of thinkers who want change in our criminal justice system.
I'm linking because they have a good visualisation of the recently-released police crime statistics, comparing the proportion of apprehensions leading to prosecution among Maori and Pakeha youth. The back-to-back bar charts take advantage of the brain's ability to detect lack of symmetry.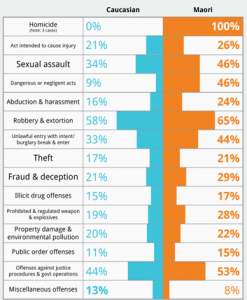 I probably would have left out the homicide category, which has too few to compare, and it would be interesting to see if small gaps between the categories help.
The real problem is in interpretation.  It's hard to say what you'd expect just from economic differences and differences in where people live, without any differences in how they are treated by police. A higher proportion of prosecutions could mean the police are using their discretion to prosecute more Maori youth, but a lower proportion of prosecutions could just as easily have been interpreted as harassment of innocent Maori youth.

Thomas Lumley (@tslumley) is Professor of Biostatistics at the University of Auckland. His research interests include semiparametric models, survey sampling, statistical computing, foundations of statistics, and whatever methodological problems his medical collaborators come up with. He also blogs at Biased and Inefficient See all posts by Thomas Lumley »