September 23, 2013
Real estate data visualisation
Det Mackey suggested we look at Grieg's Hamilton and their graphs.
Some of these are quite good.
For example, this one shows how median sale price and CV change over time. The increase of sale price relative to government valuation in the boom is clear, as is the lack of increase since then.  Also, the variations in the median CV would give some idea of the extent to which differences in median price are due to changes in which houses are selling, versus changes in how much they are selling for.  The lack of a legend on the two series is a bit unfortunate, but it's pretty obvious which is which. A graph like this would improve a lot of the newspaper stories about real estate prices.
This graph, on the other hand, I think is supposed to show a comparison of median sale price across suburbs.  Apart from aesthetic objections, it doesn't really work because median sale prices by suburb are not components of a total in any meaningful way, so the 'pie' metaphor isn't doing any useful work.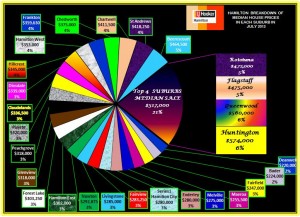 The other graphs on the site fall somewhere in between: they convey information, but often in ways that could have been more effective.

Thomas Lumley (@tslumley) is Professor of Biostatistics at the University of Auckland. His research interests include semiparametric models, survey sampling, statistical computing, foundations of statistics, and whatever methodological problems his medical collaborators come up with. He also blogs at Biased and Inefficient See all posts by Thomas Lumley »