June 26, 2014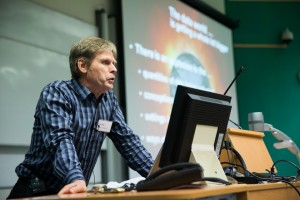 Interested in learning to do data analysis but don't know where to start? Try out the Department of Statistics' new MOOC (massive online open course) called From Data to Insight: An Introduction to Data Analysis. It's free – yep, it won't cost you a bean – starts on October 6, takes just three hours a week, and will be led by our resident world-renowned statistics educator Prof Chris Wild (right).
The blurb says, in part:
"The course focuses on data exploration and discovery, showing you what to look for in statistical data, however large it may be. We'll also teach you some of the limitations of data and what you can do to avoid being misled. We use data visualisations designed to teach you these skills quickly, and introduce you to the basic concepts you need to start understanding our world through data.
"This course assumes very little experience with statistical ideas and concepts. You will need to be comfortable thinking in terms of percentages, have basic Microsoft Excel skills, and a Windows or Macintosh computer to download and install our iNZight software."
And that's all you need. Spread the word.