May 28, 2015
"In Australia road deaths are going down but in New Zealand the number has shot up", says the Herald, giving depressing-looking international comparisons from newly-announced OECD data. The percentage increase was highest in New Zealand The story does go on to point out that the increase reverses a decrease the previous year, suggesting that it might be that 2013 was especially good, and says
"An ITF spokesman said New Zealand's relatively small size made percentage movements more dramatic."
Overall, it's a good piece. Two things I want to add: first, it's almost always useful to see more context in a time series if it's available. I took the International Road Traffic Accident Database and picked out a group of countries with similar road toll to New Zealand in 2000: all those between 200 and 1000. The list is Austria, Denmark, Finland, Ireland, Israel, New Zealand, Norway, Slovenia, Sweden, Switzerland. Here are the data for 2000 and for 2010-2014; New Zealand is in red.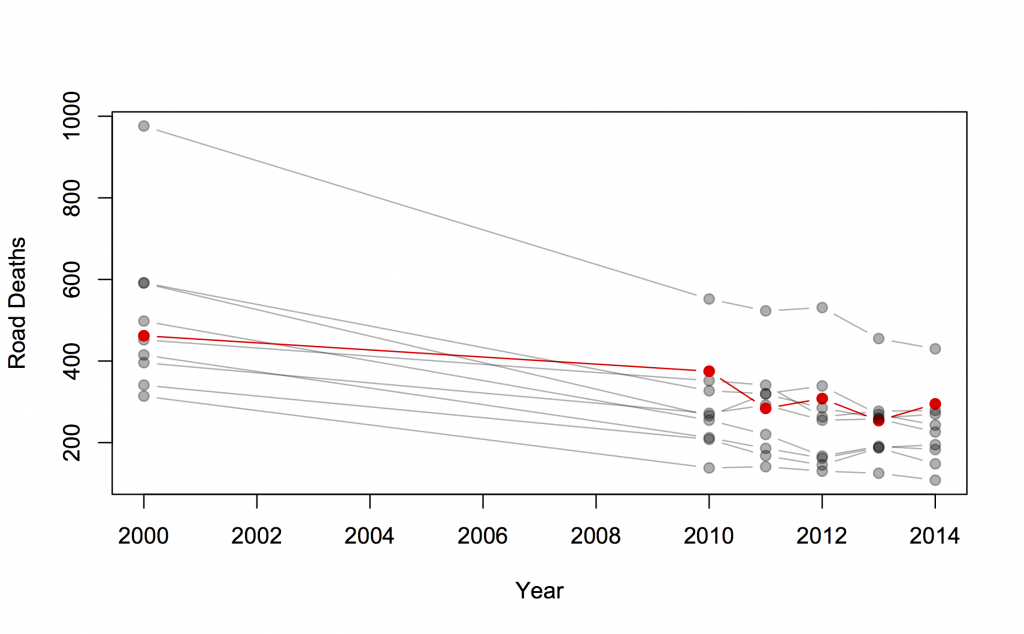 There's a general downward trend, but quite a bit of bouncing around due to random variation. As we keep pointing out, there are lots of mistakes made when driving, and it takes bad luck to make one of these fatal, so there is a lot of chance involved. It's clear from the graph that the increase is not much larger than random variation.
Calculations using the Poisson distribution (the simplest reasonable mathematical model, and the one with the smallest random variation) are, likewise, borderline. There's only weak evidence that road risk was higher last year than in 2013. The right reference level, though, isn't 'no change', it's the sort of decrease that other countries are seeing.  The median change in this group of 10 countries was a 5% decrease, and there's pretty good evidence that New Zealand's risk did not decrease 5%.  Also, the increase is still present this year, making it more convincing.
What we can't really do is explain why. As the Herald story says, some of the international decrease is economic: driving costs money, so people do less of it in recessions. Since New Zealand was less badly hit by recession, you'd expect less decrease in driving here, and so less decrease in road deaths. Maybe.
One thing we do know: while it's tempting and would be poetic justice, it's not valid to use the increase as evidence that recent road-safety rule changes have been ineffective. That would be just as dishonest as the claims for visible success of the speed tolerance rules in the past.