March 31, 2015
The Herald has pictures of the most beautiful faces in the world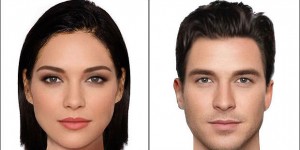 and NPR reports on a computer algorithm that can tell if you sound trustworthy or calming or engaging.
The Herald story at least admits these faces are only world-famous in New Zealand (or, rather, the UK)
"It's important to note that these are the idealised faces according to those living in the UK, so a study in Asia or Africa for example would no doubt have different results."
The NPR story instead doubles down by saying
But algorithms have stamina, and they do not factor in things like age, race, gender or sexual orientation.
There's a sense in which this is true, but it's not a very useful sense. If we can guess age, race, or gender from the sound of someone's voice, and these perceptions affect whether we think the voice is engaging,calming or trustworthy, our prejudices will show up in the training data and any competent black-box algorithm will learn them.