November 20, 2014
Nature doesn't care about round numbers in base 10, but people do.  From @rcweir, via Amy Hogan, this is Twitter data of the number of people followed and following (truncated at 1000 to be readable). The number of people you follow is under your control, and there are clear peaks at multiples of 100 (and perhaps at multiples of 10 below 100). The number following you isn't under your control, and there aren't any similar patterns.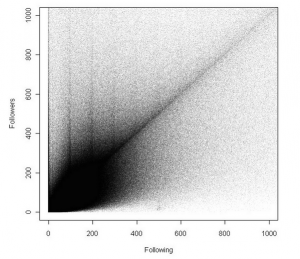 For a medical example, here are self-reported weights from the US National Health Interview Survey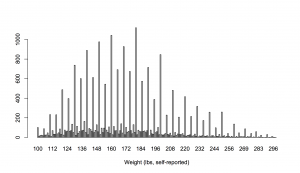 The same thing happens with measured variables that are subject to operator error: blood pressure, for example, shows fairly strong digit preference unless a lot of care is taken in the measurement.