August 31, 2015
Literally, this time. I got this from Andrew Gelman, but it's too good not to share. It's originally from the Wall Street Journal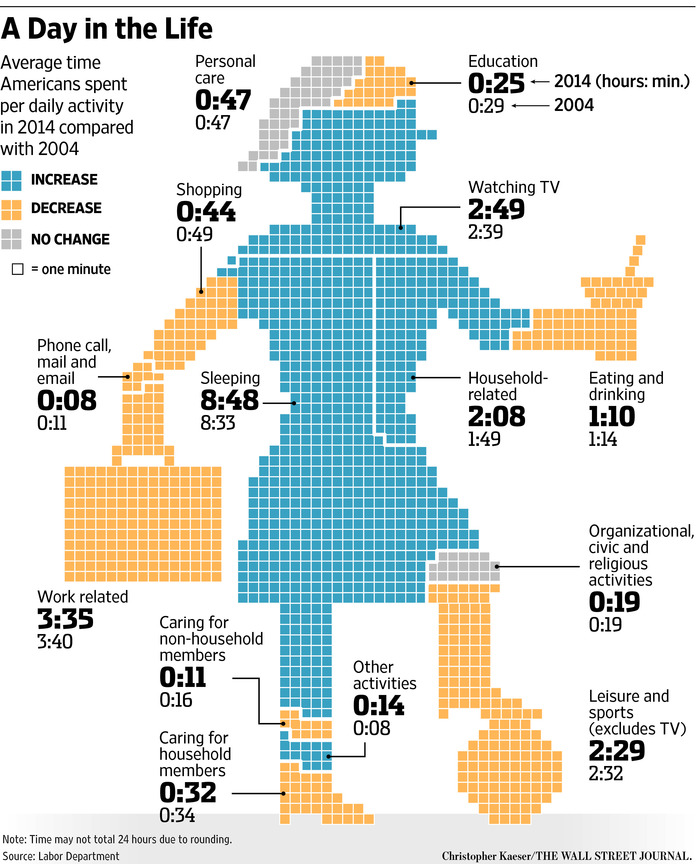 Apart from the attempts to make the body part representative of the activity, the unwisdom of playing soccer in high heels, and the mystery of what it actually is that she's eating or drinking (a martini? an icecream?), there are some generalisable graphical points.
First, comparison of area between different shapes is hard, and so isn't a good way to display data: it's not immediately clear whether the Knee of Religion is larger than the Forehead of Education or the Shoe of Caring.
Second, trying to code the direction of change with colour means you can't use colour (consistently) to distinguish categories.
Third, some of the figures aren't very helpful because they average over everyone: only about 60% of the adult population is in paid employment, and only a small proportion are in education. For people who work or study the time spent is a lot more than the average, for everyone else it's zero.
And finally, if you have to write all the numbers on the graph, the graph isn't doing its job.