December 9, 2013
Nick Iversen nominated the Herald's story on increasing inequality as Stat of the Week, on the grounds that it didn't have any data showing increasing inequality. That's slightly unfair — the increase in high incomes is not explainable by inflation — but it's certainly true that the conclusion was pretty weakly supported by the numbers.
Firstly, any comparison of money in 2006 to money in 2013 that's not inflation-adjusted in some way is pretty pointless. The CPI went up 19% over that period.
Secondly, minimum wages are pretty obviously relevant. At the last Census, the minimum wage was $9.50; at this Census it was $13.50, a nominal increase of 42% and a real increase of  19%.
Thirdly, there are established ways to measure income inequality, and while they aren't perfect, they are better than trying to reinvent the wheel.  From an Inequality Forum earlier this year,  we can find some summaries based on survey data (PDF) of the ratio of the 80th to 20th percentile of income, and the Gini index.  Here's the 80:20 ratio, with the blue line for income before subtracting housing costs and the red line for income after subtracting housing costs. Both have gone down since 2006, though up since the 1980s, and housing costs are clearly a fair chunk of the inequality problem.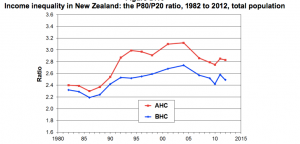 The Gini index is a more complicated summary of inequality that uses all the data, not just two percentiles. It's popular for comparing between times and between countries.  The Gini index for raw income (before taxes and benefits) has stayed fairly stable in NZ recently.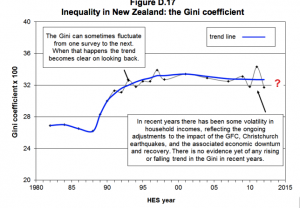 The Gini index for income after taxes and benefits will have increased, but probably not by a lot.
So, inequality in NZ is substantially higher than it used to be, and there are a lot of reasons to think this is bad, but the increase was in the 1980s and 1990s, not since 2006.  And this information is not hard to find.