February 25, 2015
If cannabis is safer than thought (as the Washington Post says), that might explain why the reporting is careful to stay away from thought.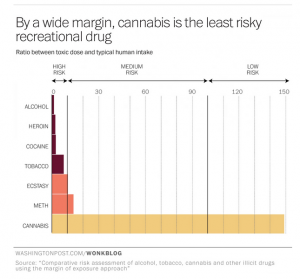 The problem with this new research is that it's looking at the acute toxicity of drugs — how does the dose people usually take compare to the dose needed to kill you right away.  It's hard to overstate how unimportant this is in debates over regulation of alcohol, tobacco, and cannabis.  There's some concern about alcohol poisoning (in kids, mostly), but as far as I can remember I have literally never seen anti-tobacco campaigns mentioning acute nicotine poisoning as a risk, and even the looniest drug warriors don't push fatal THC overdoses as the rationale for banning marijuana.
Alcohol is dangerous not primarily because of acute poisoning, but because of car crashes, violence, cancer, liver failure, and heart damage. Tobacco is dangerous not primarily because of acute poisoning, but because of lung cancer, COPD, heart disease, stroke, and other chronic diseases.
It's hard to tell how dangerous marijuana is. It certainly causes dependence in some users, and there are reasons to think it might have psychological and neurological effects. If smoked, it probably damages the lungs. In all these cases, though, the data on frequency and severity of long-term effects are limited.  We really don't know, and the researchers didn't even try to estimate.
The conclusions of the researchers — that cannabis is over-regulated and over-panicked-about relative to other drugs — are reasonable, but the data provide very little support for them.  If the researchers had used the same methodology on caffeine, it would have looked much more dangerous than cannabis, and probably more dangerous than methamphetamine. That would have been a bit harder to sell, even with a pretty graph.
[story now in Herald, too]