September 18, 2014
From the Herald
Men who are bald at age 45 are more likely to develop aggressive prostate cancer compared with those who keep their hair.

US researchers found those who lose hair at the front of their heads and have moderate hair-thinning on the crown were 40 per cent more likely to develop a fast-growing tumour in their prostate.

This was compared with men with no baldness.
That's all true, but what casts doubt on this finding is that you get the same results if you compare to men with severe baldness. That is, the research found a higher rate of aggressive prostate cancer in men who had 'moderate' baldness on the top of head, but not in those who had milder or more severe forms, and no increase in non-aggressive prostate cancer. Here are the estimated relative increases in risk, with confidence intervals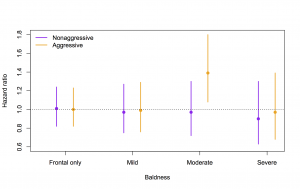 When you consider the lack of a consistent trend, and the fact that the evidence isn't all that strong for the moderate-baldness/aggressive-cancer combination, I don't think this is worth getting all that excited about.
This one can mostly be blamed on the journal: the American Society of Clinical Oncology press release isn't too bad in itself, but if you compare it to the other recent occasions when ASCO have issued a press release, it doesn't really measure up.