July 24, 2016
One News tonight had a story about venous thromboembolism (VTE) and how people don't know about it. I couldn't find a reference for the research, but it wouldn't surprise me if 50% of people hadn't heard that term — and many of those who do recognise it might associate it only with long-distance flights.
I can see people wanting to raise awareness, and the story includes a really good animation of what actually happens in a VTE. On the other hand, this is how VTE risk varies with age (source)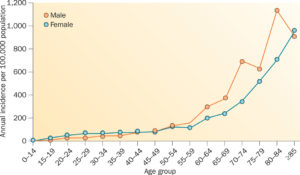 On top of that, about half of VTE is due to hospitalisation, as the story went on to describe. Given those risk patterns, it's kind of weird to have the main example in the story be a 20-year-old law student who got a pulmonary embolism without any obvious risk factors.
Disease awareness can be valuable, but it's probably more useful when it's modelled on people who are at high, or at least average, risk of the disease.