December 20, 2014
From James Lee Gilbert on Twitter, a pie chart from WXII News (Winston-Salem, North Carolina)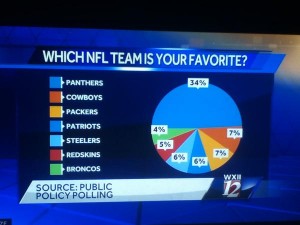 This is from a (respectable, if pointless) poll conducted in North Carolina. As you can clearly see, half of the state favours the local team. Or, as you can clearly see from the numbers, one-third of the state does.
If you're going to use a pie chart (which you usually shouldn't), remember that the 'slices of pie' metaphor is the whole point of the design. If the slices only add up to 70%, you need to either add the "Other"/"Don't Know"/"Refused" category, or choose a different graph.
If your graph makes it easy to confuse 1/3 and 1/2, it's not doing its job.