September 24, 2014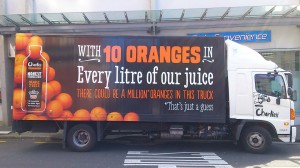 While it's nowhere near as annoying as Phoenix Organics "Don't drink science", Charlie's could do better than 'just a guess' as to whether there are a million oranges in this truck
If there are ten oranges in a litre of juice, there are ten thousand in a cubic metre of juice, so a million oranges would make 100 cubic metres of juice. The little juice bottles probably don't pack that efficiently, so you'd need more than 100 cubic metres of truck.
So, how big is a truck?  A standard twenty-foot container is 6.1m long, 2.44m wide, and 2.59m high, with a volume of 38.5 cubic metres.  That truck doesn't look three times as big as a twenty-foot container to me.
There could be a hundred thousand oranges in that truck. I don't think a million is feasible.