June 18, 2015
For a while, the Herald largely gave up basing stories on bogus clicky poll headlines. Today, though, there was a story about Gurpreet Singh,  who was barred from the Manurewa Cosmopolitan Club for refusing to remove his turban.
The headline is "Sikh club ban: How readers reacted", and the first sentence says:
Two thirds of respondents to an online NZ Herald poll have backed the controversial Cosmopolitan Club that is preventing turbaned Sikhs from entering due to a ban on hats and headgear.
In some ways this is better than the old-style bogus poll stories that described the results as a proportion of Kiwis or readers or Aucklanders. It doesn't make the number mean anything much, but presumably the sentence was at least true at the time it was written.
A few minutes ago I looked at the original story and the clicky poll next to it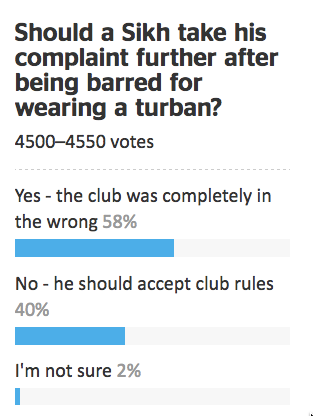 There are two things to note here. First, the question is pretty clearly biased: to register disagreement with the club you have to say that they were completely in the wrong and that Mr Singh should take his complaint further. Second, the "two thirds of respondents" backing the club has fallen to 40%. Bogus polls really are even more useless than you think they are, no matter how useless you think they are.
But it's worse than that. Because of anchoring bias, the "two thirds" figure has an impact even on people who know it is completely valueless: it makes you less informed than you were before. As an illustration, how did you feel about the 40% figure in the new results? Reassured that it wasn't as bad as the Herald had claimed, or outraged at the level of ignorance and/or bigotry represented by 40% support for the club?