August 19, 2015
World Statistics Day – October 20, 2015
What are you doing on October 20? Statisticians all over the world will be showcasing the value of their work under the theme 'Better data, better lives'. Quite. Here is the logo for this year, downloadable from the UNStats site here.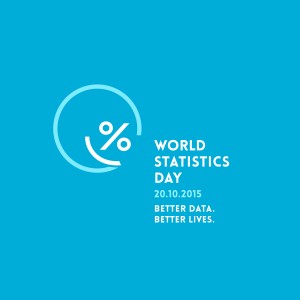 The World Statistics Day was proclaimed by the United Nations General Assembly in 2010 – so, fairly recently – to recognise the importance of statistics in shaping our societies. National and regional statistical days already existed in more than 100 countries, but the General Assembly's adoption of this international day as 20 October brought extra momentum. That first World Statistics Day in October 2010 was marked in more than 130 countries and areas.
According to UNStats, this year marks an important cornerstone for official statistics, with the conclusion of the Millennium Development Goals (see how countries have fared here), the post-2015 development agenda, the data revolution (see what the Data Revolution Group set up by UN Secretary-General Ban Ki-Moon has to say here), the preparations for the 2020 World Population and Housing Census Programme and the likes.
Statschat hasn't heard a lot about what might be happening in New Zealand and elsewhere – it might yet be a bit too early for announcements – but if you are running an event or know of one, please let us know. In the meantime, one cute initiative of UNStats is to translate the English logo into many of the languages of the world. We couldn't miss the opportunity to have UNStats do ours in the first language of this country, te reo Māori. Te tino kē hoki o te moko nā! (Nice logo!)

Atakohu Middleton is an Auckland journalist with a keen interest in the way the media uses/abuses data. She happens to be married to a statistician. See all posts by Atakohu Middleton »