January 21, 2016
Meet Statistics summer scholar David Chan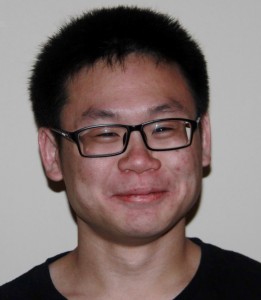 Every summer, the Department of Statistics offers scholarships to a number of students so they can work with staff on real-world projects. David, right, is working on the New Zealand General Social Survey 2014 with Professor Thomas Lumley and Associate Professor Brian McArdle of Statistics, and  Senior Research Fellow Roy Lay-Yee and Professor Peter Davis from COMPASS, the Centre of Methods and Policy Application in the Social Sciences. David explains:
"My project involves exploring the social network data collected by the New Zealand General Social Survey 2014, which measures well-being and is the country's biggest social survey outside the five-yearly census. I am essentially profiling each respondent's social network, and then I'll investigate the relationships between a person's social network and their well-being.
"Measurements of well-being include socio-economic status, emotional and physical health, and overall life satisfaction. I intend to explore whether there is a link between social networks and well-being. I'll then identify what kinds of people make a social network successful and how they influence a respondent's well-being.
"I have just completed a conjoint Bachelor of Music and Bachelor of Science, majoring in composition and statistics respectively.  When I started my conjoint, I wasn't too sure why statistics appealed to me. But I know now – statistics appeals to me because of its analytical nature to solving both theoretical and real-life problems.
"This summer, I'm planning to hang out with my friends and family. I'm planning to work on a small music project as well."

Atakohu Middleton is an Auckland journalist with a keen interest in the way the media uses/abuses data. She happens to be married to a statistician. See all posts by Atakohu Middleton »