February 21, 2014
Stats Chat's Thomas Lumley now Listener columnist
Congratulations to statschat.org.nz's Thomas Lumley, Professor of Biostatistics in the Department of Statistics at the University of Auckland, who as of today is a new columnist for the venerable New Zealand Listener (in the edition dated March 1-7; its cover story is the third anniversary of the fatal Christchurch earthquake). Stats Chat staffers are delighted that we now have another way to target stats crimes and shed some light on statistics in the media every day.
The introductory blurb on the Listener's Letters is below (complete with evidence that Julie can't make a straight scan):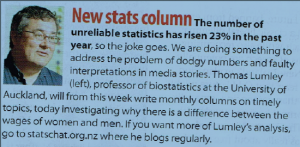 And Thomas' his first column asks this question: How much of the difference between women's and men's wages is a result of individual choice? Have a read of Closing the gap.

Atakohu Middleton is an Auckland journalist with a keen interest in the way the media uses/abuses data. She happens to be married to a statistician. See all posts by Atakohu Middleton »