February 27, 2015
CensusAtSchool 2015 launches soon!
It's nearly CensusAtSchool time again!  CAS is a biennial educational project in te reo Māori and English that turns school students into data detectives, using real-world, anonymised data about them, their peers, and their world.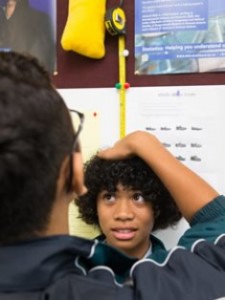 This is how it works: In the classroom, using any sort of internet-enabled digital device, and under the supervision of teachers, students fill in a confidential questionnaire in English or te reo Māori.
Some questions involve practical skills, such as weighing their schoolbags and measuring their arm span. Some questions ask about their day-to-day lives: How do they get to school? Where did they eat their dinners the night before? Do they think bullying is a problem in their school? And, given that this is a major sporting year: Which two teams will contest the Rugby World Cup final?
The database is then made available for students and their teachers to undertake statistical investigations, which is an important part of the statistics strand of the curriculum.
Teachers, this year's Census starts on March 16, and can be completed any time this year. It's free and you can register at www.censusatschool.org.nz. For everyone else, CAS always attracts great mainstream media interest – we'll post the best stories here as they crop up.
CensusAtSchool is an international educational project that began in the UK in 2000, based on a 1990 trial project by Dr Sharleen Forbes, then of Statistics New Zealand. It is now run in the UK, Ireland, Australia, Canada, South Africa, Japan and the US, as well as  New Zealand.

Atakohu Middleton is an Auckland journalist with a keen interest in the way the media uses/abuses data. She happens to be married to a statistician. See all posts by Atakohu Middleton »