March 5, 2013
NZ language maps
There's a new information paper from the Royal Society of New Zealand, on languages. We have 160 of them, which is a lot, but the paper says we could do with more coherent policy about them.
It's accompanied by some neat interactive maps, produced by Paul Behrens and Jason Gush from the Royal Society and Paul Murrell from our department. The map of average number of languages per person across the country is visually dominated by the largely-rural areas where te reo Maori is widely spoken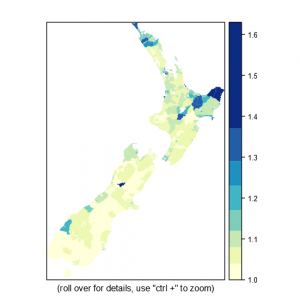 but if you zoom in to Auckland, the detail gets dramatically more complicated.  I speak 0.286 fewer languages than average for my neighbourhood.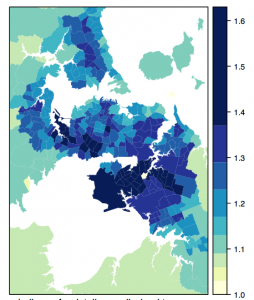 There are also national maps for  NZ Sign, Samoan, and all other languages combined.

Thomas Lumley (@tslumley) is Professor of Biostatistics at the University of Auckland. His research interests include semiparametric models, survey sampling, statistical computing, foundations of statistics, and whatever methodological problems his medical collaborators come up with. He also blogs at Biased and Inefficient See all posts by Thomas Lumley »