September 17, 2013
What you're not paying for medicines
From Pharmac's annual report for 2012 (via @sudhvir), a graph comparing actual government expenditure on subsidised drugs (red) with what would be projected under pre-Pharmac subsidy policies (blue)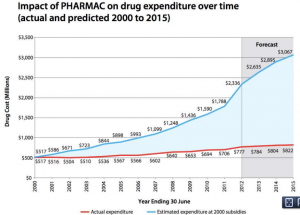 This table from the report shows some of how this was done. It shows the twenty drugs on which the most money was spent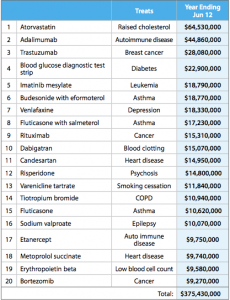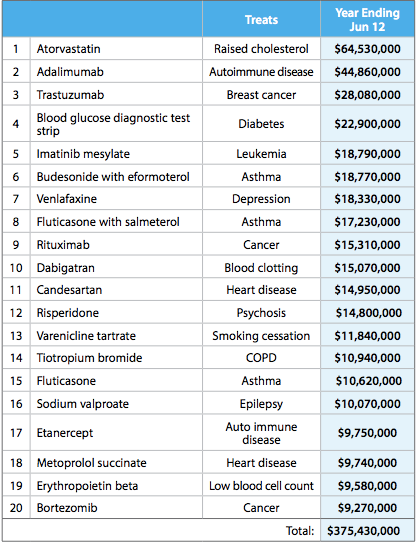 Many of these are new (any drug whose name ends in 'b' is likely to be new), but they are mostly drugs that are genuinely better, at least for a subset of patients, than the alternatives.  The top of the list, atorvastatin, lowers cholesterol more effectively than the cheaper simvastatin. It's the best selling drug of all time, but in New Zealand is used only in a relatively small set of  people whose cholesterol doesn't go down enough on simvastatin. Adalimumab was a breakthrough in serious rheumatoid arthritis, and trastuzumab is the revolutionary breast cancer treatment sold as Herceptin.
Further down the list, candesartan is a blood pressure drug that can be used in people who have side-effects with some other blood pressure drugs. In Australia, candesartan and its relatives are used very widely; here they are used only when other drugs are insufficient or not tolerated.
Pharmac isn't perfect, and I think it's underfunded, but it does a very good job of getting most of the benefit of modern pharmaceutical medicine at a very low price.

Thomas Lumley (@tslumley) is Professor of Biostatistics at the University of Auckland. His research interests include semiparametric models, survey sampling, statistical computing, foundations of statistics, and whatever methodological problems his medical collaborators come up with. He also blogs at Biased and Inefficient See all posts by Thomas Lumley »