November 19, 2013
Tune in, turn on, drop out?
From online site Games and Learning
A massive study of some 11,000 youngsters in Britain has found that playing video games, even as early as five years old, does not lead to later behavior problems.
This is real research, looking at changes over time in a large number of children and it does find that the associations between 'screen time' and later behaviour problems are weak. On the other hand, the research paper concludes
 Watching TV for 3 h or more at 5 years predicted a 0.13 point increase (95% CI 0.03 to 0.24) in conduct problems by 7 years, compared with watching for under an hour, but playing electronic games was not associated with conduct problems.
When you see "was not associated", you need to look carefully: are they claiming evidence of absence or just weakness of evidence. Here are the estimates in a graphical form, comparing changes in a 10-point questionnaire about conduct.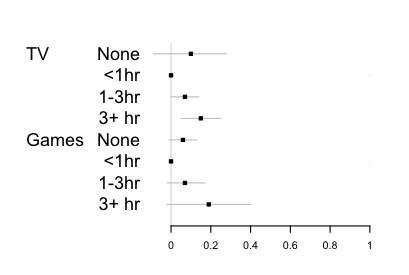 The data largely rule out average differences as big as half a point, so this study does provide evidence there isn't a big impact (in the UK). However, it's pretty clear from the graph that the data don't provide any real support for a difference between TV and videogames.  The estimates for TV are more precise, and for that reason the TV estimate is 'statistically significant' and the videogames one isn't, but that's not evidence of difference.
It's also interesting  that there's mild support in the data for 'None' being worse than a small amount. Here the precision is higher for the videogame estimate, because there are very few children who watch no TV (<2%).

Thomas Lumley (@tslumley) is Professor of Biostatistics at the University of Auckland. His research interests include semiparametric models, survey sampling, statistical computing, foundations of statistics, and whatever methodological problems his medical collaborators come up with. He also blogs at Biased and Inefficient See all posts by Thomas Lumley »