February 3, 2015
Meet Statistics summer scholar Daniel van Vorsselen
Every year, the Department of Statistics offers summer scholarships to a number of students so they can work with staff on real-world projects. Daniel, right, is working on a project called Working with data from conservation monitoring schemes with Associate Professor Rachel Fewster. Daniel explains: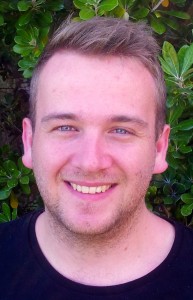 "The university is involved in a project called CatchIT, an online system that aims to help community conservation schemes by proving users with a place where they can input and store their data for reference. The project also produces maps and graphics so that users can assess the effectiveness of their conservation schemes and identify areas where changes can be made.
"My role in the project is to help analyse the data that users put into the project. This involves correctly formatting and cleaning the data so that it is usable. I assist users in the technical aspects relating to their data and help them communicate their data in a meaningful way.
"It's important to maintain and preserve the wildlife and plant species we have in New Zealand so that future generations have the opportunity to experience them as we have. Our environments are a defining factor of our culture and lifestyles as New Zealanders and we have a large amount of native species in New Zealand. It would be a shame to see them eradicated.
"I am currently studying a BCom/BA conjoint, majoring in Statistics, Economics and Finance. I'm hoping to do Honours in statistics and I am looking at a career in banking.
"Over summer, I hope to enjoy the nice weather, whether out on the boat fishing, at the beach or going for a run."

Atakohu Middleton is an Auckland journalist with a keen interest in the way the media uses/abuses data. She happens to be married to a statistician. See all posts by Atakohu Middleton »