December 14, 2015
A sense of scale
It was front page news in the Dominion Post today that about 0.1% of registered teachers had been investigated for "possible misconduct or incompetence in which their psychological state may have been a factor."  Over a six year period. And 5% of them (that is, 0.005% of all teachers) were struck off or suspended as a result.
Actually, the front page news was even worse than that: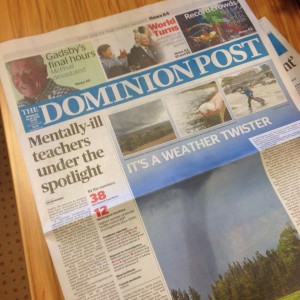 but since the "mentally-ill" bit wasn't even true, the online version has been edited.
Given the high prevalence of some of these psychological and neurological conditions and the lack of a comparison group, it's not even clear that they increase the risk of being investigated or struck off . After all, an early StatsChat story was about a Dom Post claim that "hundreds of unfit teachers" were working in our schools, based on 664 complaints over two years.
It would be interesting to compare figures for, say, rugby players or journalists. Except that would be missing the other point.  As Jess McAllen writes at The Spinoff, the phrasing and placement of the story, especially the original one, is a clear message to anyone with depression, or anxiety, or ADHD. Anyone who wants to think about the children might think about what that message does for rather more than 0.1% of them.
(via @publicaddress)

Thomas Lumley (@tslumley) is Professor of Biostatistics at the University of Auckland. His research interests include semiparametric models, survey sampling, statistical computing, foundations of statistics, and whatever methodological problems his medical collaborators come up with. He also blogs at Biased and Inefficient See all posts by Thomas Lumley »