January 11, 2016
Meet Statistics summer scholar Christopher Nottingham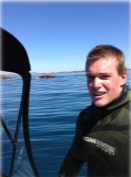 Every summer, the Department of Statistics offers scholarships to a number of students so they can work with staff on real-world projects. Christopher, right, is working with Associate Professor David Scott on All Blacks-related data. Christopher explains:
"My project is aimed at predicting the career lengths of current and future All Blacks based on data from all of the past All Blacks. This project will be useful as it will aid the planning within the All Blacks camp.
"This coming year, I will be studying a research-based MSc in Statistics. My thesis is in the area of quantitative fisheries science and will involve translating ADMB code into STAN code.
"Statistics appeals to me because of its diversity. For example, one day you could be analysing fisheries data, and the next, data relating to the All Blacks.
"In my spare time I enjoying walks along the beach, sailing and cycling around the waterfront with my wife."

Atakohu Middleton is an Auckland journalist with a keen interest in the way the media uses/abuses data. She happens to be married to a statistician. See all posts by Atakohu Middleton »