December 7, 2017
If this goes on…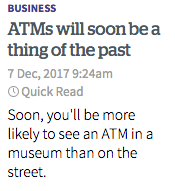 If you click through, things are less local and immediate: ATMs could be extinct in Australia within 30 years
Apparently
A projection of data from the Reserve Bank of Australia by finder.com.au has found ATMs could be a distant memory in Australia by 2036.
2036 is in 19 years, and 19 is less than thirty, so I suppose that counts as within 30 years. So how did they do the projection? There's not much detail in the story and I couldn't find any on finder.com.au.
The story says
According to finder.com.au, the number of ATM withdrawals per month has fallen from a high of 73 million in 2010 to just 47 million this year. If the trend continues at the same rate, ATM use will reach zero in three decades.
Now, I can fit a straight line to data. They teach you this in statistics. They often also teach you not to do it with just two points, but whatever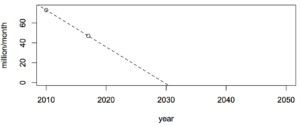 Ok, maybe finder.com.au had more data or more detailed data or something, but the information in the story is all we have, and it doesn't really support either "2036" or "30 years"
I don't know how long ATMs will last. And I don't think finder.com.au does either. But they do know how to get a free mention in the Herald.

Thomas Lumley (@tslumley) is Professor of Biostatistics at the University of Auckland. His research interests include semiparametric models, survey sampling, statistical computing, foundations of statistics, and whatever methodological problems his medical collaborators come up with. He also blogs at Biased and Inefficient