February 5, 2012
Who is really buying New Zealand? And it's not what they plotted.
Today's front page of the Sunday Star Times has a bubble chart showing the amount of hectares purchased by foreigners in the past 5 years: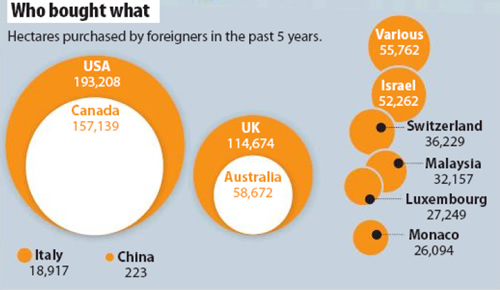 Sunday Star Times, 5 February 2012, "Who is really buying New Zealand?" A1
While bubble charts are a trendy way to present data, it is well-known that people find it hard to judge areas and even more so when the circles are not concentric (their centres don't coincide) or when the shapes overlap as in the Sunday Star Times' chart.
However, there's more problems with this graph. The bubble sizes just don't match the data.
Compare USA with Canada – the area bought by Canadians was about 81% of the amount brought by Americans but the area in their chart is only about 58%.
It should have looked like this: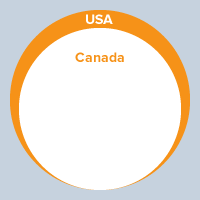 Compare China with Italy and you definitely know something has gone wrong in the calculations.
A better way to compare is via a bar chart: not quite as sexy looking but much easier to make comparisons: