February 13, 2012
More bubble charts – your feedback please!
Last week's Sunday Star Times featured inaccurate bubble charts and it has happened again this week:
Sunday Star Times, 12 February 2012, "Rugby joy short-lived" A2
You can see that diameters of the circles have been used to represent the percentages, rather than the area. This gives a distorted view of the situation as our eyes notice the area, rather than the diameter/height.
For example, look at the Crime/Violence and Race relations data for 2008 where you are comparing the 1% and 15%.   Many more than 15 of those little 1% circles can fit inside the 15% circle.
For comparison, here's the Crime/Violence and Race relations data as line graphs: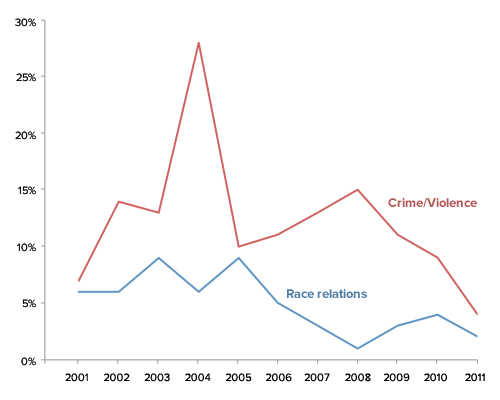 One could be also drawn for the Unemployment/Jobs and Economy data (or overlaid together, depending on what you'd like people to easily compare).
What I'm really interested in are your thoughts on the following:
Which graphic do you believe is more easily understood by the general public?  Why?
How important is it for the media to use accurate graphics versus getting across the general idea? I.e. does it really matter if the scale is correct or not? Why or why not?
Update: Here's the bubble chart where the areas represent the figures, rather than the diameters (click to enlarge).  I have not included all the details in the graph, just wanted to show a size comparison here.

Hat tip: Murray Jorgensen