February 3, 2013
What do Kiwis die of?
University of Auckland research scientist Dr Siouxsie Wiles (she's the one who makes bacteria glow in the dark) has teamed up with data visualisation expert Mike Dickison to create a series of infographics looking at the morbidly fascinating topic of what New Zealanders die from.
Here's one (click to enlarge). See the whole post on Siouxsie's blog Infectious Thoughts  here.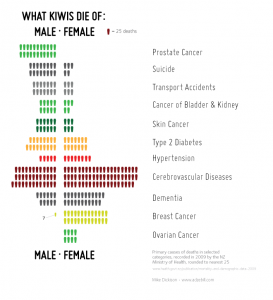 Atakohu Middleton is an Auckland journalist with a keen interest in the way the media uses/abuses data. She happens to be married to a statistician. See all posts by Atakohu Middleton »