March 25, 2013
Intergenerational inequality
The United States has surprisingly low social mobility: in every country, the children of the rich are more likely to be rich than the children of the poor, but the US is even worse than most Western countries.
Felix Salmon links to some graphs by Evan Soltas, looking at mobility in terms of education, with data from the US General Social Survey. He finds that people whose fathers did not go to university are much less likely to go to university themselves (unsurprising), and that this is true at all levels of income (more interesting).
I've repeated what Soltas did, but smoothing[1] the relationships to remove the visual noise, and also restricting to people aged 25-40 (rather than 18+)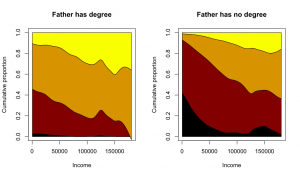 In each panel, black is less than high school, dark red is high school, light brown is university or junior college and yellow is postgraduate. These are plotted by family income (in inflation-adjusted US dollars).  The left panel is for people whose fathers had at least a junior college degree; the right is those whose fathers didn't.
The difference is striking, and as Soltas says, may imply a greater long-term value for encouraging education than people had thought.
[1] For people who want the technical details:  A sampling-weighted local-linear smoother using a Gaussian kernel with bandwidth $10000, ie, svysmooth() in the R survey package. Bandwidth chosen using the 'Goldilocks' method[2]
[2] What? $3000 is too wiggly, $30000 is too smooth, $10000 is just right.

Thomas Lumley (@tslumley) is Professor of Biostatistics at the University of Auckland. His research interests include semiparametric models, survey sampling, statistical computing, foundations of statistics, and whatever methodological problems his medical collaborators come up with. He also blogs at Biased and Inefficient See all posts by Thomas Lumley »