August 8, 2017
Breast cancer alcohol twitter
Twitter is not an ideal format for science communication, because of the 140-character limitations: it's easy to inadvertently leave something out.  Here's one I was referred to this morning (link, so you can see if it is retracted)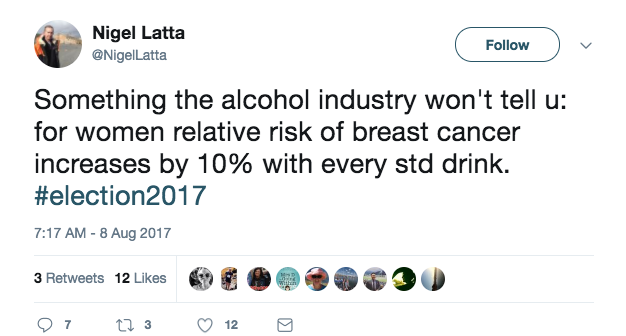 Usually I'd think it was a bit unfair to go after this sort of thing on StatsChat.  The reason I'm making an exception here is the hashtag: this is a political statement by a person of mana.
There's one gross inaccuracy (which I missed on first reading) and one sub-optimal presentation of risk.  To start off, though, there's nothing wrong with the underlying number: unlike many of its ilk it isn't an extrapolation from high levels of drinking and it isn't obviously confounded, because moderate drinkers are otherwise in better health than non-drinkers on average.  The underlying number is that for each standard drink per day, the rate of breast cancer increases by a factor of about 1.1.
The gross inaccuracy is the lack of a per day qualifier, making the statement inaccurate by a factor of several thousand.  An average of one standard drink per day is not a huge amount, but it's probably more than the average for women in NZ (given the  2007/08 New Zealand Alcohol and Drug Use Survey finding that about half of women drank alcohol less than weekly).
Relative rates are what the research produces, but people tend to think in absolute risks, despite the explicit "relative risk" in the tweet.  The rate of breast cancer in middle age (what the data are about) is fairly low. The lifetime risk for a 45 year old woman (if you don't die of anything else before age 90) is about 12%.  A 10% increase in that is 13.2%, not 22%. It would take about 7 drinks per day to roughly double your risk (1.17=1.94)  — and you'd have other problems as well as breast cancer risk.

Thomas Lumley (@tslumley) is Professor of Biostatistics at the University of Auckland. His research interests include semiparametric models, survey sampling, statistical computing, foundations of statistics, and whatever methodological problems his medical collaborators come up with. He also blogs at Biased and Inefficient See all posts by Thomas Lumley »