February 20, 2013
Is there a 3-strikes law for piecharts?
The Herald-Sun pie chart saga continues (thanks to @danfairbairn and @PeteHaitch on Twitter).   Can we get their piechart license suspended pending training and re-examination?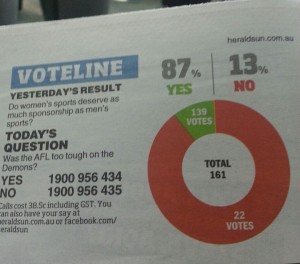 This example further complicates the question of how they actually make these graphs.  In this one, the angle is at least approximately right, the percentages are right apart from being incorrectly rounded, but the graph is backwards.  We've also seen examples where the angles were completely wrong, but the two groups were correctly identified. It's hard to see how an automated system could cause such a bewildering variety of problems, but it's also hard to see how a real person could be so totally clueless about pie charts.

Thomas Lumley (@tslumley) is Professor of Biostatistics at the University of Auckland. His research interests include semiparametric models, survey sampling, statistical computing, foundations of statistics, and whatever methodological problems his medical collaborators come up with. See all posts by Thomas Lumley »