January 16, 2015
Women are from Facebook?
A headline on Stuff: "Facebook and Twitter can actually decrease stress — if you're a woman"
The story is based on analysis of a survey by Pew Research (summary, full report). The researchers said they were surprised by the finding, so you'd want the evidence in favour of it to be stronger than usual. Also, the claim is basically for a difference between men and women, so you'd want to see summaries of the evidence for a difference between men and women.
Here's what we get, from the appendix to the full report. The left-hand column is for women, the right-hand column for men. The numbers compare mean stress score in people with different amounts of social media use.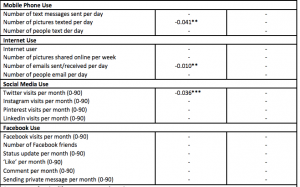 The first thing you notice is all the little dashes.  That means the estimated difference was less than twice the estimated standard error, so they decided to pretend it was zero.
All the social media measurements have little dashes for men: there wasn't strong evidence the correlation was non-zero. That's not we want, though. If we want to conclude that women are different from men we want to know whether the difference between the estimates for men and women is large compared its uncertainty.  As far as we can tell from these results, the correlations could easily be in the same direction in men and women, and could even be just as  strong in men as in women.
This isn't just a philosophical issue: if you look for differences between two groups by looking separately for a correlation each group rather than actually looking for differences, you're more likely to find differences when none really exist. Unfortunately, it's a common error — Ben Goldacre writes about it here.
There's something much less subtle wrong with the headline, though. Look at the section of the table for Facebook. Do you see the negative numbers there, indicating lower stress for women who use Facebook more? Me either.
[Update: in the comments there is a reply from the Pew Research authors, which I got in email.]

Thomas Lumley (@tslumley) is Professor of Biostatistics at the University of Auckland. His research interests include semiparametric models, survey sampling, statistical computing, foundations of statistics, and whatever methodological problems his medical collaborators come up with. He also blogs at Biased and Inefficient See all posts by Thomas Lumley »