March 24, 2016
The fleg
Two StatsChat relevant points to be made.
First, the opinion polls underestimated the 'change' vote — not disastrously, but enough that they likely won't be putting this referendum at the top of their portfolios.  In the four polls for the second phase of the referendum after the first phase was over, the lowest support for the current flag (out of those expressing an opinion) was 62%. The result was 56.6%.  The data are consistent with support for the fern increasing over time, but I wouldn't call the evidence compelling.
Second, the relationship with party vote. The Herald, as is their wont, have a nice interactive thingy up on the Insights blog giving results by electorate, but they don't do party vote (yet — it's only been an hour).  Here are scatterplots for the referendum vote and main(ish) party votes (the open circles are the Māori electorates, and I have ignored the Northland byelection). The data are from here and here.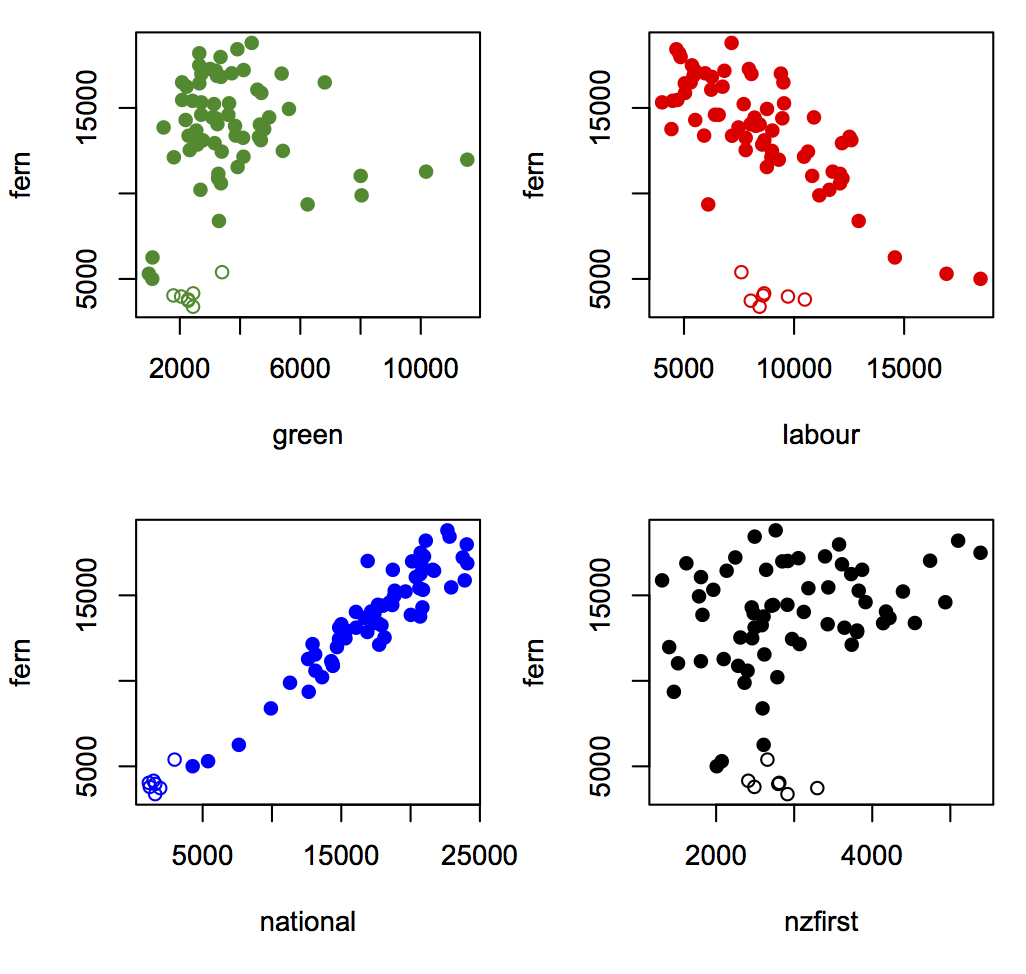 The strongest relationship is with National vote, whether because John Key's endorsement swayed National voters or whether it did whatever the opposite of swayed is for anti-National voters.
Interestingly, given Winston Peters's expressed views, electorates with higher NZ First vote and the same National vote were more likely to go for the fern.  This graph shows the fern vote vs NZ First vote for electorates divided into six groups based on their National vote. Those with low National vote are on the left; those with high National vote are on the right. (click to embiggen).


There's an increasing trend across panels because electorates with higher National vote were more fern-friendly. There's also an increasing trend within each panel, because electorates with similar National vote but higher NZ First vote were more fern-friendly.  For people who care, yes, this is backed up by the regression models.

Thomas Lumley (@tslumley) is Professor of Biostatistics at the University of Auckland. His research interests include semiparametric models, survey sampling, statistical computing, foundations of statistics, and whatever methodological problems his medical collaborators come up with. He also blogs at Biased and Inefficient See all posts by Thomas Lumley »