October 17, 2016
Vote takahē for Bird of the Year
It's time again for the only bogus poll that StatsChat endorses: the New Zealand Bird of the Year.
Why is Bird of the Year ok?
No-one pretends the result means anything real about popularity
The point of the poll is just publicity for the issue of bird conservation
Even so, it's more work to cheat than for most bogus polls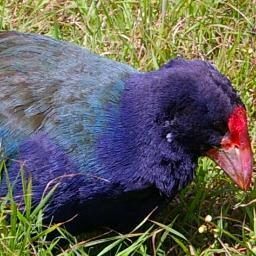 Why takahē?
Endangered
Beautiful (if dumb)
Very endangered
Unusual even by NZ bird standards: most of their relatives (the rail family) are shy little waterbirds.
(A sora, a more-typical takahē relative, by/with ecologist Auriel '@RallidaeRule' Fournier)

Thomas Lumley (@tslumley) is Professor of Biostatistics at the University of Auckland. His research interests include semiparametric models, survey sampling, statistical computing, foundations of statistics, and whatever methodological problems his medical collaborators come up with. He also blogs at Biased and Inefficient See all posts by Thomas Lumley »