April 9, 2016
Movie stars broken down by age and sex
The folks at Polygraph have a lovely set of interactive graphics of number of speaking lines in 2000 movie screenplays, with IMDB look-ups of actor age and gender.  If you haven't been living in a cave on Mars, the basic conclusion won't be surprising, but the extent of the differences might. Frozen, for example, gave more than half the lines to male characters.
They've also made a lot of data available on Github for other people to use. Here's a graph combining the age and gender data in a different way than they did: total number of speaking lines by age and gender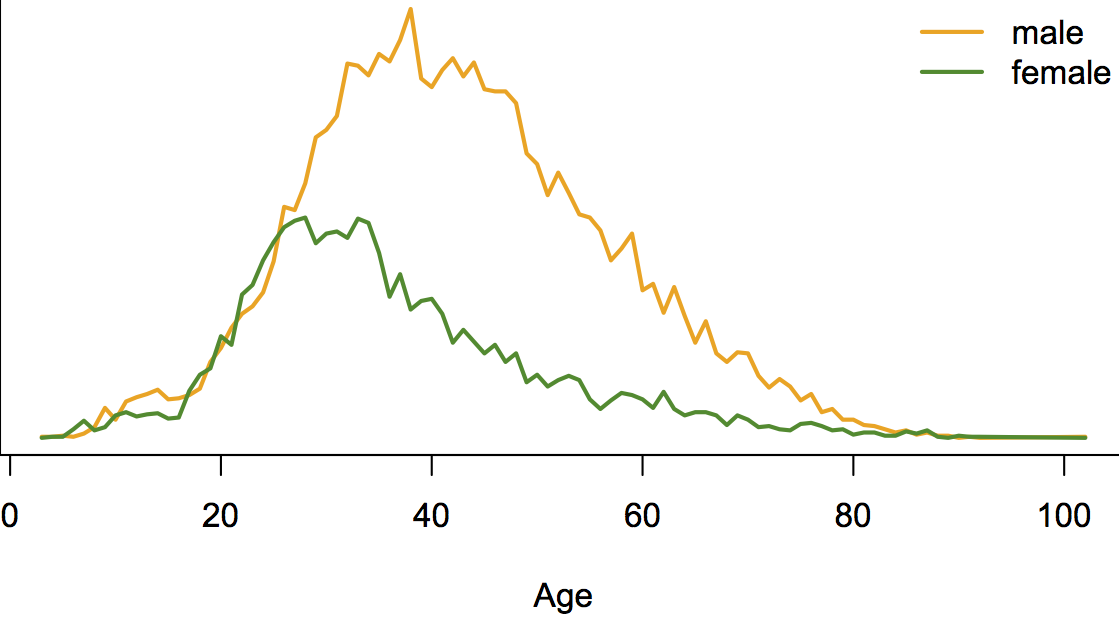 Men and women have similar number of speaking lines up to about age 30, but after that there's a huge separation and much less opportunity for female actors.  We can all think of exceptions: Judi "M" Dench, Maggie "Minerva" Smith, Joanna "Absolutely no relation" Lumley, but they are exceptions.

Thomas Lumley (@tslumley) is Professor of Biostatistics at the University of Auckland. His research interests include semiparametric models, survey sampling, statistical computing, foundations of statistics, and whatever methodological problems his medical collaborators come up with. He also blogs at Biased and Inefficient See all posts by Thomas Lumley »