January 6, 2016
Every summer, the Department of Statistics offers scholarships to a number of students so they can work with staff on real-world projects. Katie, right, is working on the New Zealand Socio-Economic Index with Dr Barry Milne of COMPASS (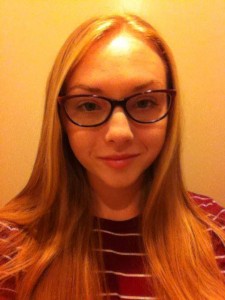 Centre of Methods and Policy Application in the Social Sciences) and Professor Alan Lee from the Department of Statistics. Katie explains:
"The New Zealand Socio-Economic Index (NZSEI) assigns occupations a score that enables us to measure the socio-economic status of people in that occupation. It's calculated using the average age, income and education level of people with each job. For example, doctors would have a very high socio-economic index, because they're typically high-earning and well-educated people.
"The NZSEI has been created from Census data since the 90s, but has not yet been updated for the most recent Census in 2013. In this project, my job is to update the NZSEI using path analysis, and check that this updated version is appropriate for all people in New Zealand. A couple of examples include assessing that the index is valid for all ethnicities, and valid for workers in both urban and rural regions.
"The index is important to measure any changes to New Zealand over time, as it is updated with each Census. As well as this, the NZSEI uses a similar methodology to international scales, so international comparisons are possible.
"I am currently in my third year of studying Mathematics and Statistics at the University of Sheffield in England, and I'm halfway through my year here in Auckland as an exchange student. I've always been interested in Statistics and studying it at university level has shown me how applicable it is in a variety of fields, from finance to biology.
"Over the summer, I'm looking forward to exploring New Zealand more."