March 7, 2016
The Herald Insights section has a multi-day exploration of police burglary reports, starting with a map at the Census meshblock level.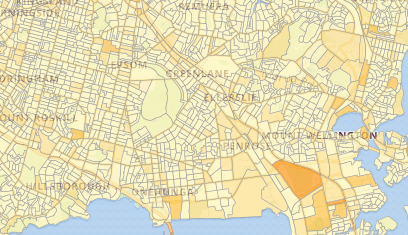 When you have counts of things on a map there's always an issue of denominators and areas.  There's the "one cow, one vote" phenomenon where rural areas dominate the map, and also the question of whether to show the raw count, the fraction of the population, or something else.  Burglaries are especially tricky in this context, because the crime location need not be a household, and the perpetrator need not live nearby, so the meshblock population really isn't the right denominator.  The Herald hasn't standardised, which I think is a reasonable default.
It's also an opportunity to link again to Graeme Edgeler's discussions of  why 'burglary' is a wider category than most people realise.